Casual turn-based WW2 Pacific naval strategy: move, search & destroy, build units and develop technologies. Clear and simple combat and move. Sort of dynamic XXL battleship game, 90 missions, over 50 moveable ship/aircraft/submarine/artillery unit types, huge tactical and strategic maps up to 90x90, unit production and combat technology upgrades, different mission objectives (destroy, conquer, defend, escort, kill-them-all).
Fast, re-playable tactical content rich board game style strategy. Just plug and play.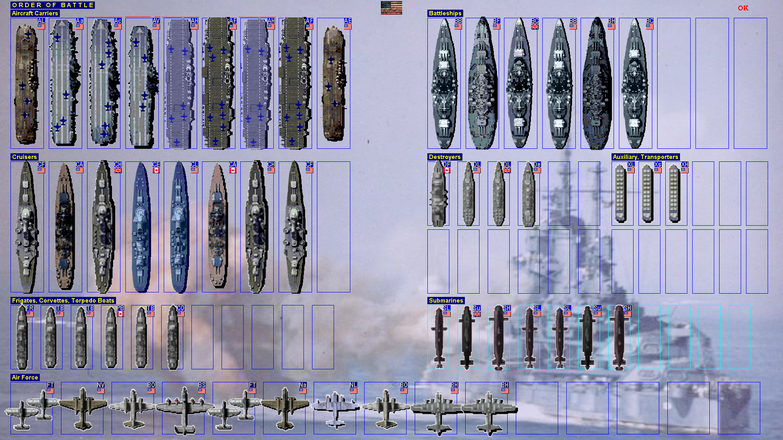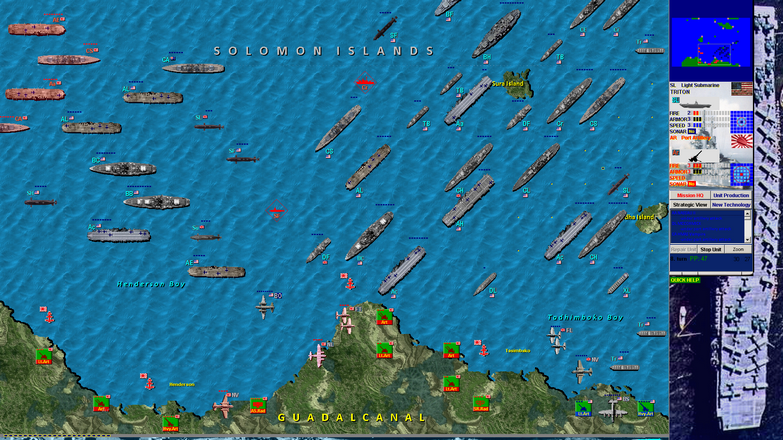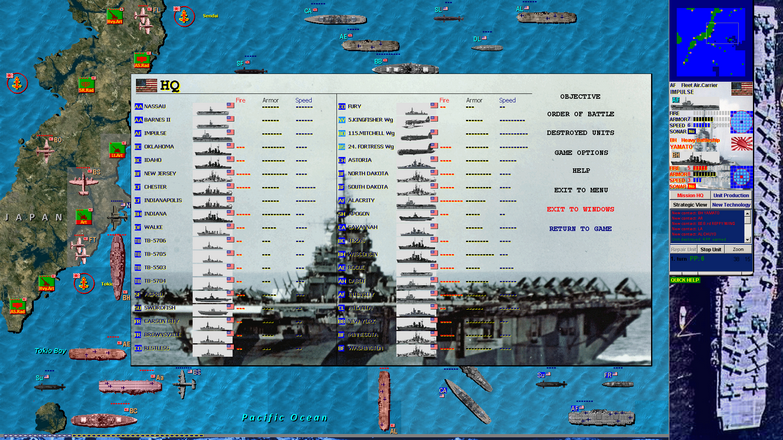 Naval turn based strategy game, extension to the classic Battleship game where ships/planes/subs can move!
Game objectives: conquer enemy ports, defend friendly ports, destroy ships, secure transport convoy to the friendly port. Player can purchase new ships/planes during the game.
Over 60 missions, Death-Match and Free Hunt scenarios and campaigns including Pearl Harbor, Coral Sea, Midway, Singapore, Iwo Jima, Battle For Leyte, Los Angeles, US Marines, Fall Of Australia, Conquer Of Japan, Okinawa, HMS Prince Of Wales, San Bernardino, Tokyo Express, Admiral Spruance, Admiral Halsey, Imperial Navy, Admiral Jamamoto, Yamato, Kamikaze, Operation Sidney
More info:
Standard Battleship Game vs Pacific War Game
Pacific War turn based strategy game
Download Pacific War (zip file)
Buy Pacific War Full Version
---



Naval turn based strategy game, compilation of the best Pacific War and Battelfleet 1939 scenarios, plus new Combat Technology system - research and implement new armor, artillery, speed, engine and radar technologies.
Over 150 missions, death-matches and campaigns!
More info: Battleship Game WW2
Download Battleship Game World War 2 (zip file)
Buy Battleship Game World War 2 Full Version

Contains over 60 missions & campaigns and 40 ship, submarine, airplane & port artillery types, with combat maps up to 100x100 fields large.
Game war scenarios include Mission Bismarck, Invasion, Atlantic 1941, Royal Navy, Norway Ports, Wolf Pack Submarines, USN Operations 1941, Singapore, Kriegsmarine, Conquer Of Italy, Lamansh, Atlantic 1943, Lancaster Bombers, Gross-Admiral, Drang Nach Ost, Sir John Tovey, B-29, Normandy and USAAF.



Download BattleFleet 1939 (zip file)

Buy BattleFleet 1939 Full Version

---
List of ranks used In BattleFleet and Pacific War battleship games

United States Navy
Chester Nimitz, Ernest King, William Halsey, Raymond Spruance, Thomas Kinkaid, Fleet Admiral, Admiral, Vice Admiral, Rear Admiral, Commodore, Captain, Captain (Junior), Commander Lieutenant, Commander Lieutenant (Senior), Lieutenant (Junior), Ensign, Midshipman, Chief Warrant Officer 1.st, Warrant Officer 2.nd, Warrant Officer 3.rd, Warrant Officer, Chief Petty Officer, Petty Officer 1st Class, Petty Officer 2nd Class, Seaman, Seaman Apprentice, Recruit

Kriegsmarine

Dr. Erich Raeder, Karl Donitz, Gunther Prien, Gunther Lutjens, Otto Schultze, Grossadmiral, Admiral, Vizeadmiral, Konteradmiral, Kommodore, Kapitan zur See, Fregattenkapitan, Korvettenkapitan, Kapitanleutnant, Oberleutnant zur See, Leutnant zur See, Oberfahnrich zur See, Fahnrich zur See, Stabsoberbootsmann, Oberbootsmann, Stabsbootsmann, Bootsmann, Oberbootsmannsmaat, Bootsmannsmaat, Matrosensobergefreiter, Matrosenhauptgefreiter, Matrosengefreiter, Matrose
Royal Navy
Sir Arthur Cunningham, Sir Bertram Ramsay, Sir Dudley Pound, Sir James Somerville, Sir John Tovey, Admiral of the fleet, Admiral, Vice-Admiral, Rear-Admiral, Commodore, Captain, Captain (Junior), Commander Lieutenant, Commander Lieutenant (Senior), Lieutenant (Junior), Sub-Lieutenant, Cadet, Chief Warrant Officer, 1.st Warrant Officer, 2.nd Warrant Officer, 3.rd Warrant Officer, Chief Petty Officer, Petty Officer, Junior Petty Officer, Seaman, Ordinary Seaman, Junior Seaman
Imperial Japan Navy
Isoroku Yamamoto, Osami Nagano, Chuichi Nagumo, Takeo Kurita, Gunichi Mikawa, Joto-Thai (FADM), Thai-sho (ADM), Chu-sho (V.ADM), Sho-sho (R.ADM), Joto-Thai-sa (Comodore), Thai-sa (Cpt), Nitto-Thai-sa (J.Cpt), Chu-sa (Cmd), Sho-sa (Lt.Cmd), Thai-i (S.Ltn), Chu-i (J.Ltn), Sho-i (Sub Ltn), Heisocho (MidSh), Joto-Suiheicho (C.WO), Itto-Suiheicho (1.WO), Nitto-Suiheicho (2.WO), Suiheicho (3.WO), Joto-Heiso (CPO), Itto-Heiso (1.PO), Nitto-Heiso (2.PO), Joto-Suihei (SM), Itto-Suihei (1.SM), Nitto-Suihei (2.SM)